Hike date: December 6, 2017
I went out to see what the current Molera State Park looks like. Only the Post Summit ridgeline was burnt by the 2016 Soberanes fire – but the following winter's heavy rainfall events caused the Big Sur River to overflow and flood lower sections of the park, notably its parking lot and campground. The park was closed for a long time, then re-opened this summer but with many trails closed. Currently only the Bluffs, Bobcat, Creamery Meadows, Panorama, Ridge, and Spring Trails are open.
---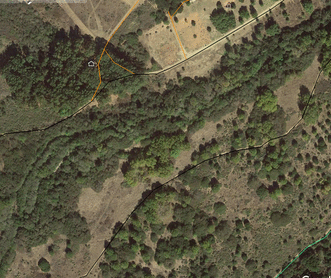 This comparison of 20016 vs 2017 satellite images shows damage created by the river overflow. The Big Sur River cut new channels, with one branch still flowing over the campground and Headlands Trail in the 2017 image (more visible in larger image).
Arriving for my hike, I found cleared mud remaining in the parking lot. The Headlands Trail is closed, as is the old Beach Trail crossing.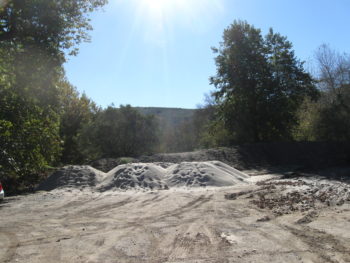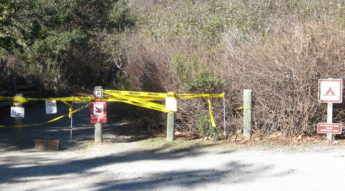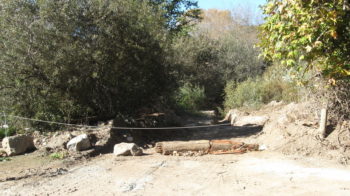 Current beach access is via the horse crossing and the Creamery Meadows Trail – blue arrows lead the way.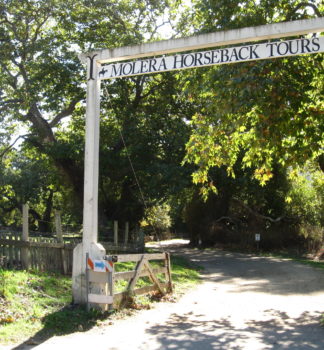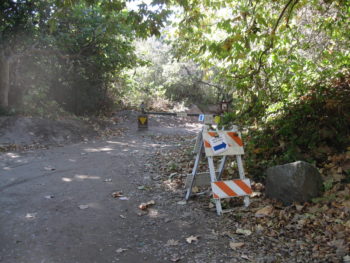 River flooding produced erosion and rock carpeting along the now closed River and Beach trails.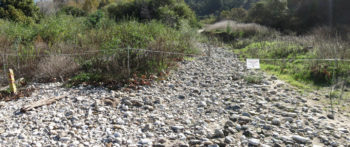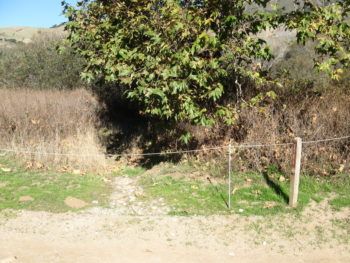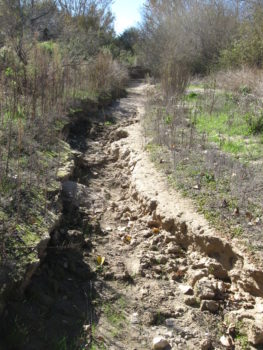 Other damage was also evident – part of the bluffs has fallen away and that section of the Buffs Trail is now closed.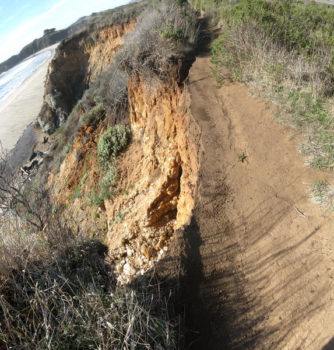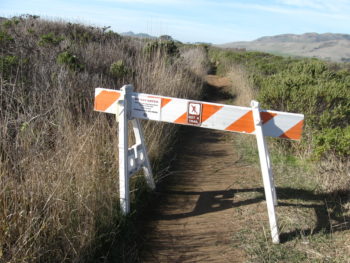 Above the river, the Bluffs, Panorama, Ridge Trails are in excellent shape, albeit with side trails closed. The views remain wonderful.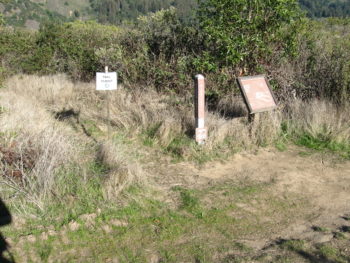 So what is left of Molera State Park is the beach access, access along the Route 1 side of the Big Sur River, and the wonderful loop along the bluffs and ridge. One sees many "Closed Trail" signs! The East Molera Trail is currently closed for unknown reasons; for the Soberanes fire it was re-graded for fire access, after which straw erosion-control berms were placed across it – so it was not unduly affected by the winter storms. It will be interesting to see when, and if, it and the other trails are re-opened. State Parks is notorious for keeping trails closed after any closure, even when they have been cleared by their crews and are very hikeable. [For example, after the 2008 fire when the Ewoldsen Trail remained closed for a year after crews had worked on it. And I don't think the "Alvin" Trail in Limekiln State Park, constructed ~2014 using CALTRANS money, has ever been opened.]