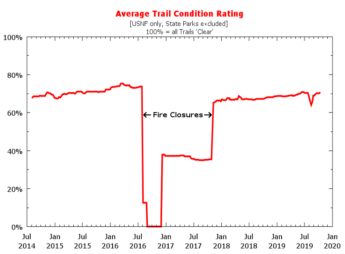 Nature is relentlessly degrading the National Forest trails in Big Sur. And the US Forest Service no longer maintains them. So volunteer trailcrews have been pushing back – lopping, sawing, and doing treadwork to keep the trails passable. But are they rebuilding the trails as fast as nature is destroying them??
---
Since July 2014 I've published a "trails conditions" map, which I updated weekly based on public and private trail reports. Having kept a history, I decided to see how the overall trail conditions have changed weekly since 2014.
The graphic shows the result. In "normal" (non-fire) years, trailworkers are winning the battle and the overall rating improves. That's good news! Since there are over 300 miles in the Ventana and Silver Peak wilderness areas, I've wondered whether despite all the trailwork being done we were slowly loosing ground just due to the extensiveness of the trail network.
But nature has a card up her sleeve – fire, which can undo years of trail maintenance. Beside the obvious "natural" impacts — both immediate and post-fire of enhanced erosion and tree downing — there are "artificial" (i.e. human-created) impacts such as USFS closure of the forest to hikers and trailworkers, which lengthens the degradation period.
The Soberanes Fire essentially nullified the cumulative trailwork since July 2014 – the current rating is the same as back then. Still, its encouraging that the fire did not undo all the work since the previous 2008 fire, so it would seem that progress is being made.
What about the future? That greatly depends upon fire frequency vis-a-vis the effort brought forth by public-spirited trailworkers. Are you helping? Here is a link for VWA trailcrew events. Or join or donate to the VWA to help support paid-crew maintenance.
Since trail degradation should be a concern to all wilderness hikers, I'm now putting each week's "average trail condition rating" on my Big Sur Trailmap homepage. And a link to its weekly-updated time-history. What sort of trail experiences will future hikers have? Time will tell.
---
Whence the metric
My "average trail condition rating" is calculated by giving each mile of trail in the Monterey-district Los Padres National Forest a rating from 100% to 0%: 100% for "Clear" (or better) conditions and 0% for "Impassable" or "Closed" trails. ("Historic", i.e. no longer used, trails are not included.) Each trail mile is multiplied by its rating, then summed and divided by the total trail miles. Of course there are caveats – in particular, trail conditions should be accurately known but trail reports are infrequent for the less passable trails. (An example is the rating decrease immediately after November 2016, when the National Forest again opened – overall trail conditions were actually increasing then, since trailwork was again being done, but the post-fire conditions of the less accessable burnt areas were not known until months after the re-opening, as reports trickled in.) Despite the caveats, it's better than guessing and/or individual impressions based upon hiking a few trails.