Round trip: 11 miles & 3500 ft elevation gain
Hike date: October 6, 2017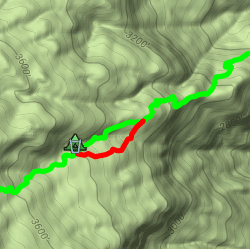 Hearing that a section of the Carrizo Trail below Carrizo Spring Camp has recently been re-routed (see map), I went out to see what the new section looks like and GPS the new route. I found the trail has been moved out of the paralleling gully, into a drier environment.  It should be subject to less overgrowth and easier to maintain – a definite improvement.
While I was out there, I decided to reprise my first Carrizo Trail mapping hike.  That 2009 hike was motivated by wanting to find exactly where the trail went, since I'd found different routings on different maps.  This hike would be more leisurely, for there has been significant trailwork along the entire trail since them.  Back then there was much crawling in brush tunnels and much searching to find the trail – this time I only had to search once and never had to crawl!  So I had more opportunity to look around and appreciate the trail and this hike and it was much more enjoyable.
---